Horizontally Integrate your project/shipment.
In addition to vertical integration of a project, we are also able to horizontally integrate your multiple projects running in Taiwan.
For example, if you have 5 suppliers in Taiwan and each of them are going to ship to you. You need to place 5 orders, arrange 5 shipments and make 5 payments. Not to mention the communications and follow ups in between.
With our help (sourcing agent, trading agent), you could simplify all complicated process into a single contact window. Please see followed chart for a better understanding:
Without Hsieh Metal: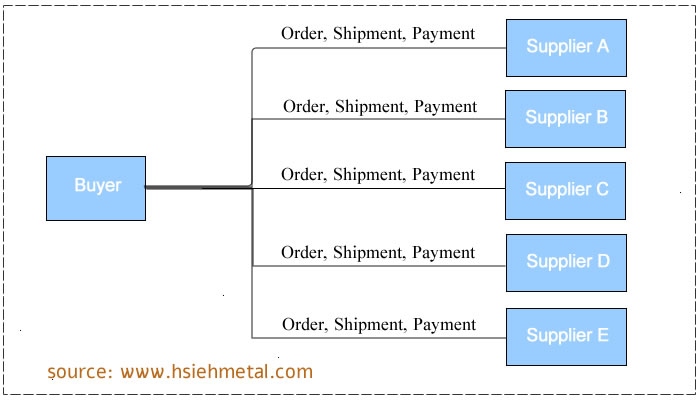 Without trading agent, You are paying for the invisible cost of:
Time consuming.
Difficulty of Arrangement.
Local Logistic Issue.
Difficult to Communicate.
With Hsieh Metal: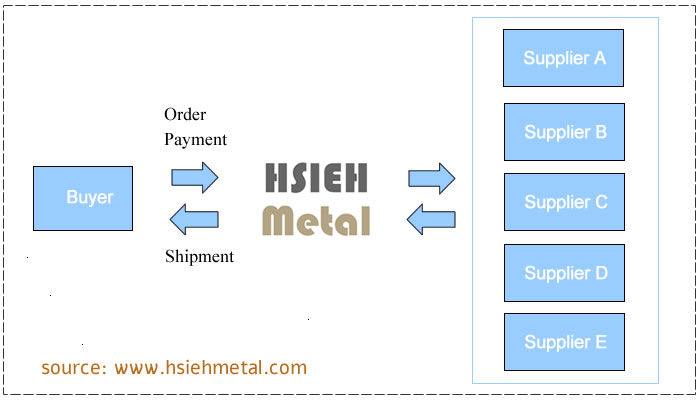 With HsiehMetal's help, you have earned yourself:
Local Risk Management.
Integrate project and shipment.
Cost Efficiency.
Easy Communication.
New product development.
Backup Plan.
With our service you will have one single contact window, place one single order, receive one single shipment and make one single payment.
Our service is commission based so all information including suppliers and price are transparent. You are free to contact all supplier so no need to worry about incredible price adding up like traditional trading company.
Find a supplier quickly, saving your time and total cost.
You can focus on your selling and marketing. We help you do the supply. We also help our clients Global Sourcing.
Our sourcing product includes metal products, hand tools, auto parts, industrial components and electrical goods.
Please feel free send us inquiry for more information.